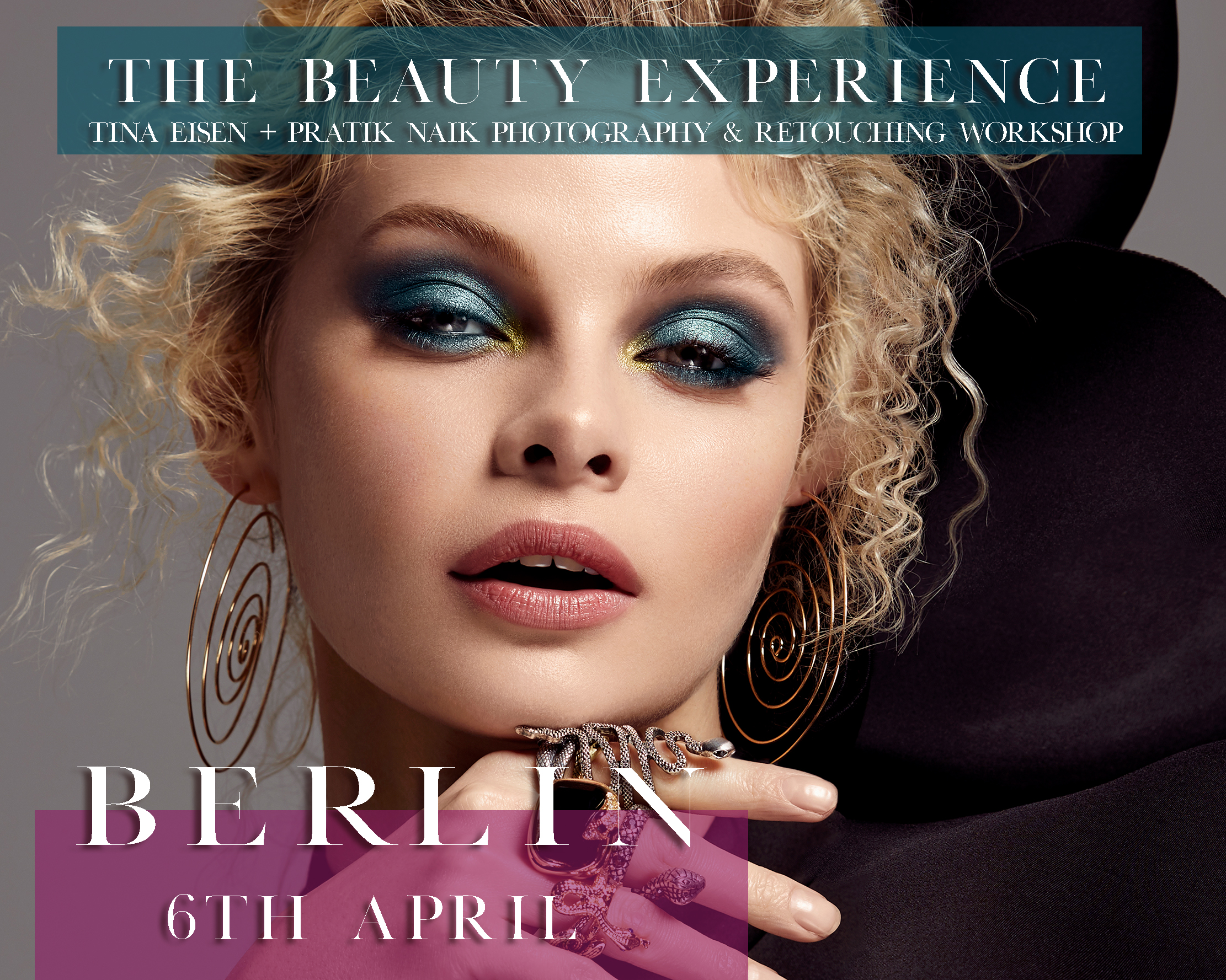 What Students can expect from the day
Join Editorial Beauty Photographer Tina Eisen and High End Retoucher Pratik Naik on Saturday, 6th April 2019 in Berlin, Germany. Pratik and Tina have teamed up to bring you a an interactive, educational and wonderfully creative day combining their lessons on beauty photography and retouching.
Learn and experience hands on how an editorial beauty shoot is structured up from planning to execution to final image.
This class is designed for creatives looking to break into beauty photography and retouching, as well as those who want to expand their skill set and creativity. The experience isn't just limited to knowledge listed below, we expect students to leave inspired with a new sense of enthusiasm and empowerment in creating better work.
With our collective 20 years of experience working in the industry, we truly believe this class will go beyond just the technical elements and provide a first hand look into the beauty industry.
On the day we will be joined by a highly experienced team comprised of a make up artist and agency talent.
During the first half of the day Tina will be covering:
Finding Ideas/ Planning/ Team building

3 Beauty Lighting Setups

Beauty Photography Do's and Don't's

Posing Pointers

How to Cull the Right Images

How to Promote Your Work/ Social Media
During the afternoon Pratik is going to teach you:
Processing a Beauty Image Before Retouching

Setting Up a Proper Plan on What to Look out for When Retouching a Beauty Image

Establishing and Going Over a Beauty Workflow for Retouching

Utilising the Correct Tools to Expedite High- End Results without Wasting Time

Empowering the Retoucher to Finish an Image from Start to Finish

Expanding Further and Answering Individualised Questions on Your Own Work
Collectively they will be talking covering our colour grading workflow for beauty images.
Throughout the day you will be able to closely observe how the model is being styled and groomed, you will be trying out gear and experience hands on how Tina and Pratik approach each of their workflows.
Once the class is done it gives you an all- access pass in being able to ask any follow- up questions after the event for further coaching. And of course we'd like to see how you've implemented what you've learned into your work!
What Students need to KNOW
Each student will have plenty of opportunities to take their own pictures of the model during the different setups. Make sure to bring your cameras and memory cards! For the retouching please bring your Wacom tablet if you own one, it is not mandatory but highly recommended.
The course will start at 9am and end around 7pm.
There will be refreshments, goodie bags and plenty of time to ask questions!
Location is the stunning Spreegraphen Studios close to Tiergarten & Charlottenburg .
For event and photography related questions, feel free to email Tina at tina_eisen@icloud.com and for any retouching question you might have, drop Pratik a line at pratik@solsticeretouch.com
THIS CLASS IS LIMITED TO THE FIRST 12 PEOPLE AND IS EXPECTED TO SELL OUT BASED ON DEMAND.
The Early Bird Price below will only be available for a few days.